About Sabrina Joinery
Sabrina Joinery. Experts in wood.
Wood exudes a natural charm which Sabrina crafts to unique character
As far as improvements go, adding wood to your home really does add character. The grain patterns are as unique as fingerprints, and each one installed will exhibit a charm of their own.
Wooden doors and windows… nothing says more for your home, with added benefits
Wooden doors and windows not only look beautiful, but they also have characteristics such as high security, long life, insulating properties, and they can also meet with fire door regulations. And with our Accoya installations, you get the benefit of high-performance innovation with Accoya's treatments helping your beautiful wood last a guaranteed 50 years.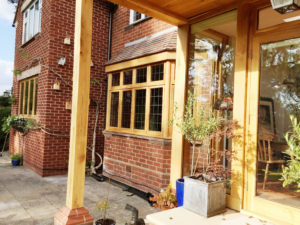 A reputation for excellence
Our products are designed and handmade in the UK. Sabrina's strengths lie in the design and manufacture process, with each project being completely bespoke, and hand-crafted in our Shropshire workshops. Every design is carefully planned to not only give you a wide range of choice, but also to show off the beauty of the wood.
Sabrina oak, for instance, is crafted using traditional methods, seasoned oak is kiln dried, then hand-cut in specialist workshops using techniques passed down through the generations. The result is individual style, care and attention—with all the tricks of the trade and magic created by skilled craftsmen.
Oils, hardwax oil, stains—beauty therapy for wood
Sabrina's own oils and stains are specially formulated to protect and beautify the wooden surfaces of your home. So if wood is on your list of home improvement our special formula oils, stains and waxes are ideal.
---
Materials we love
The choice of wood really matters, so we take the guesswork out for you
We work with English Oak to produce doors, windows, flooring and more

English Oak

Strong, dependable, traditional
buy online
A selection of our products are available for purchase online
Great ideas and designs
We've been working with wood for over 30 years, and we're always innovating
Handcrafted in the UK
Our craftsmen still use traditional methods in everything we do
We love what we do
Because we're passionate about wood, everything we make is done with love
Made to order
We don't keep stock, we hand-craft everything that's ordered