Workshops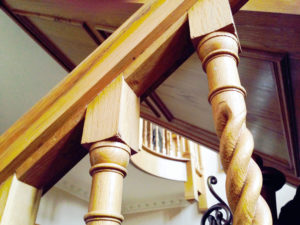 The heart of the Sabrina operation are the custom-built workshops. Here, our premium grade oak follows a production line of highly skilled wood designers, joiners, and craftsmen, each with their own unique talent.
Our oak for example is machined, assembled and then finished totally on our premises. Quite literally, 'straight from the tree' wood comes in at one end of the building, beautifully crafted and ready to fit doors come out at the other.
Years of commitment to producing first class doors have made Sabrina the country's leading oak door manufacturer.
Our workshops may have developed technologically over the years, but this has not changed the level of hand-finishing that our products undergo.
We welcome you to inspect our workshops and see the level of dedication for yourself. A guided tour of our fantastic joinery workshops is a real eye-opener.
Showroom
Sabrina is situated right on the banks of the infamous River Severn, Sabrina being the goddess of the river in mythology.
Our spacious location allowed us to create something which we feel encapsulates the very soul of the company—our Showroom and Offices.
Built from scratch using the finest wood, our inspirational design combines fairytale detailing with robust construction. The upper level houses our offices—the nervecenter of our administration operations. Our offices are home to our sales team, on-site surveyors and accounts department (not to mention a few happy cats!).
Our lower sales level almost looks like a wing of a stately home—with just about everything on display available to purchase. Here you will see samples of our doors, along with matching oak furniture to suit.
The future of wood?
Sabrina has a secure future. Wood has a strong and aged legacy of announcing quality on sight. Nothing comes close, even with today's modern furniture.
Our pride is evident in our products. All of our doors have a solid modern, and yet strangely antique, quality. They breathe life—whatever their location.